Tuesday, July 29th, 2008 - 12:52pm
Wacko Search Results
Jared had a great little piece in his latest series "Producing Great Search Results." He describes a term that has stuck with UIE — wacko results.
As soon as they encounter a wacko result, it reduces their confidence in the search. For some users, this makes it unlikely they'll continue using Search as a reliable method for completing their objective, since it works unpredictably.
That pretty much sums up my first experience with Cuil, a new search player with VC funding, managed and founded by a few former Google employees that seem keen on changing the search game.
Kudos to them for braving the "search space" or whatever it is called now, exclaiming mightily:
Rather than rely on superficial popularity metrics, Cuil searches for and ranks pages based on their content and relevance.
They completely failed for me on relevance, though as I subjected them to the first test almost any blogger will perform: searching for your own name. While most of the results were relevant, what was associated with them threw me for a loop.
There are several wacko results on that page, including an image of a crying baby beside my name as an A List Apart author, indexing a URL that is a textdrive subdomain. Peculiar.
There is the book that I contributed to, with several other fine authors: Web Standards Creativity, referencing an image that shows the cover of Beginning JavaScript with DOM Scripting and Ajax by Christian Heilmann. Odd. (I mean the result, not Christian. <cheek>Or do I?</cheek>)
But this one trumps all. It is off the wacko result scale: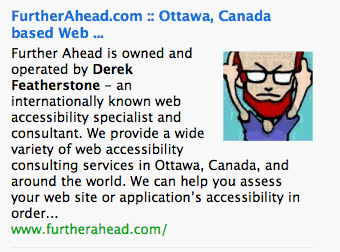 Now, I loves me some Rob Weychert, but why oh why is his personal avatar associated with my company? Don't get me wrong. Rob is a very good friend. Along with his stellar beard, he's a an air guitar genius.
But his two-handed middle-finger salute avatar, ummm, doesn't exactly send the kind of message that I want to be associated with the company description, if you know what I mean?